We introduce Registered Reports as a new article format at the Journal of Politics. A Registered Report is a form of an empirical research article in which the theory, methods and proposed analysis are pre-registered, reviewed, and in-principle-accepted for publication prior to data access. We introduce Registered Reports as a trial and will report on the experiences after the trial has ended. Registered Report submissions are open from January 1st  2023 through September 30st 2023.
Why do we introduce Registered Reports?
Registered Reports chart a clear, reliable path to publication. The structured process reduces uncertainties as scholars know before data collection whether the efforts will result in a research publication. Registered Reports are therefore particularly appealing for Early Career Researchers who will be evaluated based on their publication track records. Moreover, the clear and reliable path to publication may encourage researchers at all career stages to take risks in ambitious projects.
The article format promises advantages for the academic community as a whole because it is designed to promote the credibility of published research findings. Editorial decisions on Registered Reports are based on the merits of the research question and design, irrespective of the empirical results. In consequence, Registered Reports should minimize publication bias (overrepresenting clean, positive or spectacular results) and reporting bias (overrepresenting findings that match researcher preferences) while allowing the flexibility to conduct unregistered analyses and report serendipitous findings.
What can I submit as a Registered Report?
In general, various types of observational, experimental, qualitative, or quantitative studies are eligible but some projects are better suited for Registered Reports than others. Specifically, Registered Reports must analyze data the authors have not yet observed but for which the anticipated structure of the data is sufficiently clear to pre-specify a detailed analysis plan. For more information, see our Registered Reports FAQ.
How do Registered Reports work exactly?
The review process for Registered Reports is divided into two stages. At Stage 1, reviewers assess the manuscript before data were collected or analyzed. You can think of a Stage-1 manuscript as a full-blown and detailed and usually theory-driven research article but without the results section. Following Stage-1 review, manuscripts will be in-principle accepted, offered the opportunity to revise, or rejected. After an IPA has been issued the authors begin to conduct the data collection and analysis. For more details, consult the process diagram below and our Registered Reports submission guidelines.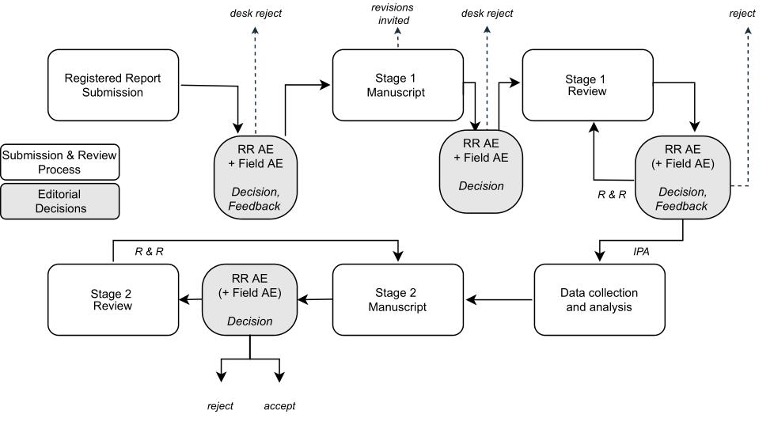 Can I help out as a reviewer?
You may experience reviewing a Registered Report as rewarding. Reviewers can give recommendations on any aspect of the research design before the research is conducted. So, authors receive feedback when it helps the most. Your expertise thus contributes to realizing the full potential of a research project and it has an immediate impact on how the research is conducted from theory development to experimental manipulations. You can sign up as a Registered Reports Reviewer in the JOP Editorial Manager or update your Editorial Manager to indicate your willingness to review Registered Reports.
About the Editor
Alexander Wuttke is the JOP´s Special Registered Reports Editor.
He is a political scientist with a PhD from Mannheim University. His research explores democratic backsliding from the perspective of ordinary citizens.
You can find more information on his research here and follow him on Twitter: @Kunkakom